Cart (

0

)
The item you just added is unavailable. Please select another product or variant.

Cart
Recently Added
Total $0.00
The item you just added is unavailable. Please select another product or variant.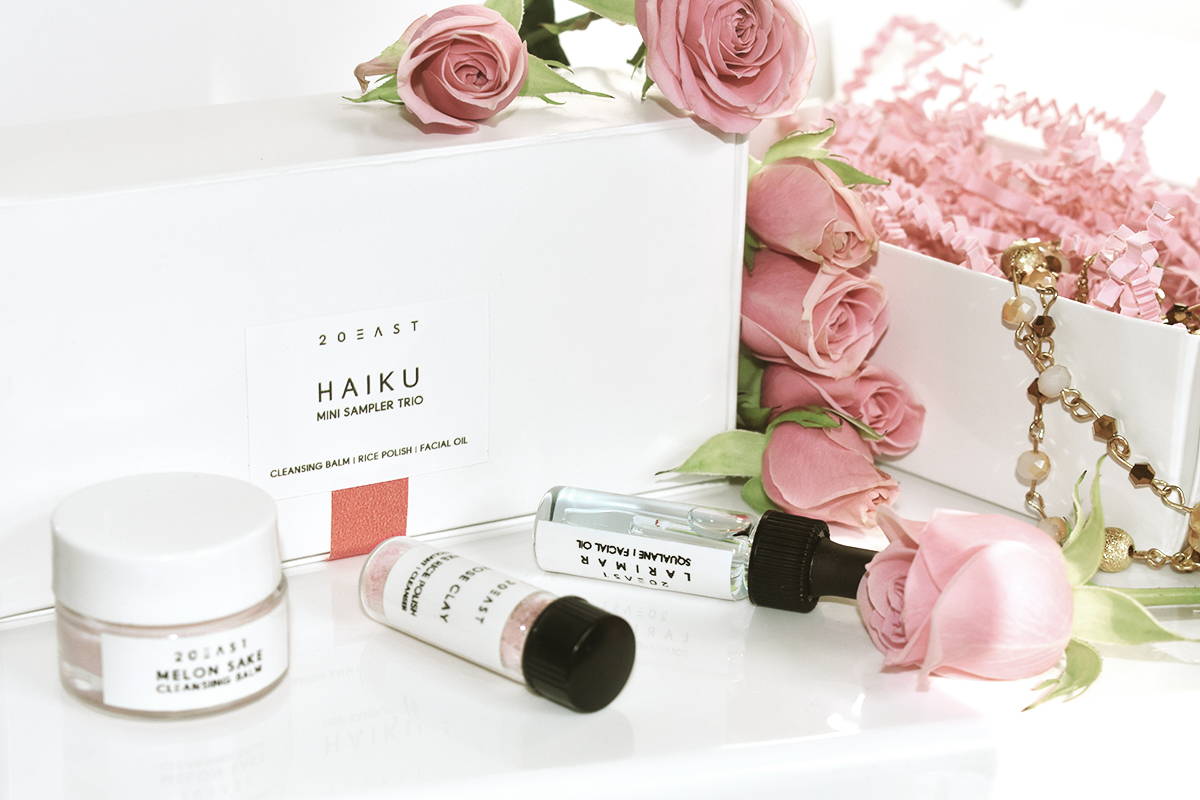 HAIKU | DELUXE SAMPLER TRIO
A 3 piece travel sized set of our skin care products. An affordable way to try before you buy! Packed with luxurious, natural, organic, and ethical ingredients, this little trio will put your best face forward.

1 - .25 FL OZ [ 7ML ]Glass Jar ( Melon Sake Cleansing Balm)
1 - .125 FL OZ [ 3ML ]Glass Dropper Bottle ( Larimar Facial Oil)
1 - .125 FL OZ [ 3ML ]Glass Bottle ( Rose Clay Rice Polish)




 
Natural | Organic | Premium Quality

We use natural, organic and premium quality ingredients in our products. Our focus is on formulating effective, natural skincare and opt to use organic and fair trade ingredients whenever possible. Made in the USA in small batches by hand to ensure you get a truly fresh product. Never tested on animals.
MELON SAKE CLEANSING BALM
THEOBROMA CACAO (COCOA) SEED BUTTER*+, MANGIFERA INDICA ( MANGO) SEED BUTTER, Emulsifying Wax NF, PRUNUS AMYGDAUUS DULCIS (SWEET ALMOND) OIL*, CAPRYLIC/CAPRIC TRIGLYCERIDE, POLYSORBATE80, COCOS NUCIFERA (COCONUT) OIL*, CUCUMIS SATIVA (CUCUMBER) FRUIT EXTRACT & CUCUMIS (MELO) MELON FRUIT EXTRACT, CALAMINE POWDER, HELIANTHUS ANNUUS (SUNFLOWER) SEED OIL & SAKE EXTRACT, Tocopherol
*Organic
+ Fair Trade
LARIMAR FACIAL OIL
Squalane, Blue Tansy Leaf Oil, Peppermint Oil, Blue Chamomile Oil, Ylang Ylang Oil, Propietary blend of essential oil and isolates (Mango Melange)
*Organic
ROSE CLAY RICE POLISH
Oryza Sativa (Rice) Powder,Cocos Nucifera Milk Powder , Honey, Sodium Cocoyl Isethionate (coconut based surfactant), Kaolinite ( Rose Clay) Kaolin, Helianthus Annuus (Sunflower) Seed Oil & Sake Extract, Kaolin, Rosa Damascena (Rose) Oil, Malodextrin, Sodium Casinate    
MELON SAKE CLEANSING BALM
Using the provided spatula, scoop out a small amount. Gently massage into skin, adding water as needed to emulsify. Rinse and pat dry.
LARIMAR FACIAL OIL
For dry skin, mix a few drops into your regular moisturizer or pat on afterwards. For oily or sensitive skin, pat on before moisturizing to replenish nutrients without locking in too much extra hydration. If your skincare routine doesn't seem like it's going the distance, try this facial oil to give it the last push that it needs.
ROSE CLAY RICE POLLISH
.Pour rice polish into hands and add warm water to create a thin paste. Massage onto clean, damp face to help loosen dirt, debris, and dead skin cells. Rinse well and pat dry.
MELON SAKE CLEANSING BALM




A creamy, soothing and lightweight makeup removing cleanser that melts immediately upon contact with the skin. When mixed with water, the melted oils turn milky and rinse away without clogging pores.


 
LARIMAR FACIAL OIL
A calming antioxidant and vitamin rich facial oil that promotes healthy, glowing skin. Face oils are an often forgotten but necessary part of daily skincare routines.
ROSE CLAY RICE POLISH
A mild foaming scrub that exfoliates and gently removes dirt and debris to reveal velvety, youthful skin. Jam packed with luxurious, natural ingredients and formulated to hydrate and soften, this rice polish is the perfect way to look and feel more vibrant without the use of chemical peels or artificial ingredients. Gentle enough to be used every day.